Celebrity Couple Anne Curtis and Erwan Heusaff are Expecting!
Power couple Anne Curtis and Erwan Heusaff are expecting their first child!
Anne Curtis made the announcement on her official Instagram account
Meanwhile Erwan Heusaff simply posted "5/9" on his, which might mean that Curtis is already 5 months pregnant
It's been a long time coming for the celebrity power duo, but it's still one of the happiest news that have come from the powerhouse couple.
Anne Curtis' Announcement
Curtis and Heussaff both shared the good news on Sunday with a special video on their respective Instagram accounts, with the song "Nothing's Gonna Hurt You Baby" by Cigarettes After Sex in the background.
"I think you should know something… Another reason to love November," she said on her post.
Her husband, Celebrity Chef Erwan Heussaf, meanwhile just simply wrote "5/9" on his post. Internet sleuths and dedicated followers alive have interpreted to mean that Curtis is already five months pregnant.
Viva Artist Agency, the management company of the "It's Showtime" host, also congratulated the couple after they made the announcement.
"Here's a toast to the beautiful mother and to her handsome hubby. May they be blessed with a cute baby like no other Congratulations to you both!" it said.
Anne and Erwan tied a knot in a private ceremony in Queenstown, New Zealand back in November 2017.
A month earlier, the "It's Showtime" noontime host doubled down on her plea to stop the press from asking women questions about pregnancy and marriage. This was after she was asked about her plans to have a baby.
According to the multi-awarded actress, it's important to take note that there some are women who are going through things in life.
"I think I should take this opportunity and say that the press should stop asking that to any woman, because you don't know what they're going through," she said.
Anne Curtis, who emphasized that she's speaking not just for herself but to all the women out there, says she believes in God's perfect time.
"For me naman, it will happen in God's time, and I think at any time I'm ready for it," the 34-year-old singer stated. "But I'm speaking for every woman. You don't know what they're going through," she added.
It certainly is all in the timing, as the couple may have waited for the perfect opportunity to announce their wonderful news.
In the conference, she also added that she felt bad when she hears that question because she has friends who she is aware of trying to get pregnant, but simply couldn't/
"I have a lot of friends who may be trying, and medyo nakakasakit when people keep asking them, 'When are you going to have a baby?' Or maybe they just don't want to have a baby," she remarked.
"I hope you guys don't take this the wrong way, but I think in respect to every woman, you should stop asking when they're going to get married, why don't they have a baby, or when they are going to have a baby," she said.
Anne Curtis and her Sister-in-Law is "happy to grow" with each other
After Curtis announced her pregnancy on Sunday, the actress's sister-in-law, and also soon-to-be mom Solenn Heussaff also uploaded her photo with her fellow mom-to-be.
The two women proudly showed off their baby bumps.
"4 humans in a photo, happy to grow with you," Heussaff wrote in the caption of her Instagram post.
Curtis and husband Erwan Heussaff gathered with their extended family for a simple Sunday lunch.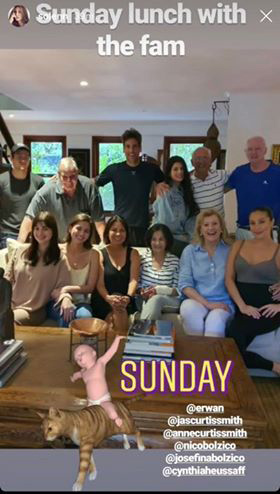 Source: ABS-CBN News