K-Idol Goo Hara found dead
South Korean singer and actress Goo Hara was found dead on Sunday.
Goo Hara, who was a former member of the group Kara, was discovered at her home in Seoul on Sunday evening. This was according to a Yonhap news agency reported that the police are still investigating the cause of death but they were "keeping the possibility of suicide in consideration."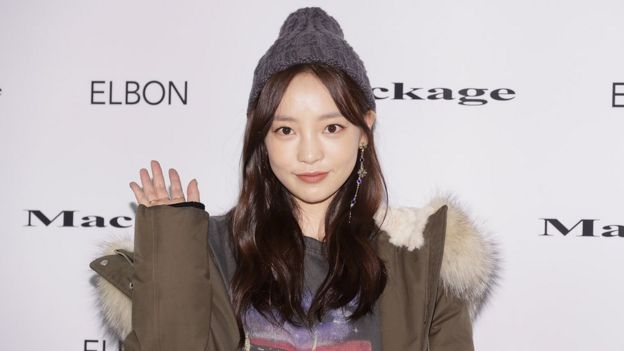 Japanese agency Production Ogi released a statement which requested for the star's privacy.
'Hello. We are here to deliver tragic and unfortunate news,' the statement read. 'Family members and friends of Goo Hara are deeply shocked and anxious at the moment.
'Therefore, we earnestly request that you refrain from writing speculative articles and spreading rumours. In addition, we ask the media and fans to refrain from making condolence calls.'
It comes after she had allegedly attempted to take her own life after leaving a series of worrying messages on Instagram back in May.
Goo Hara rose to fame as a member of the K-pop girl group Kara, who debuted in 2007 under DSP media, releasing hit singles such as Cupid and Step, before disbanding in 2016.
A victim of Cyber-bullying
There was a strong moment in time where she was involved in disputes involving her ex-boyfriend who threatened to circulate a sex video of her. This made her the subject of malicious tabloids and online hate.
Goo had previously spoken out against cyberbullying – and in June said it was difficult to overcome depression and pleaded for positive comments on social media.
The singer's death has sparked an online petition on the website of the South's presidential office calling for stronger punishments for cybercrimes and abusive online comments.
In the conservative South, women who appear in such videos often feel shame – despite being the victims – and face ostracism and social isolation if the images become public.
Goo Hara's Heartbreaking Message to Sulli
Coming at the heels of the death of her friend Sulli, who was a member of girl group f(x).
Her death shocked the world, as her body was found at 3:20 PM on Oct. 14, after her manager went to her house when he was unable to contact her.
Paramedics subsequently arrived at 3.39pm, where they found Sulli dead on arrival.
It seemed that Hara and Sulli were close friends, with Hara treating Sulli her own sister. When the news of her service was announced, Hara left a heartwrenching message for her late friend on an Instagram livestream.
She was apologizing for not being able to attend her funeral as she was in Japan at the time to promote her solo career.
In the video, Hara can be seen trying to hold the tears back while holding her hands in a prayer symbol, as she promises to work hard for her.
'Sulli, I'm sorry I can't go [to your funeral] because I am in Japan,' she said.
'I'm sorry that I had no other choice but to greet you like this. '
'Live well up there and do everything that you wanted to do. I will live hard and work hard for you.'